HEAR FROM OUR BRIDES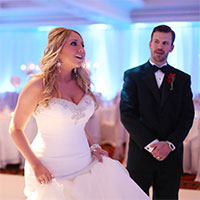 Nemacolin gave us our dream wedding. From start to finish, everything was perfect. The Presidential Suite, the food, the decorations, and the event staff made the planning process fun and stress free! Our vision was executed in such a way that we couldn't have even imagined what the final product was going to look like. It exceeded all of our expectations and wildest dreams.
When trying to find the perfect venue for your wedding, the wedding planner is a big reason why you should chose a particular venue. I knew from the moment I met Christina that I was in great hands and she would take the best care of my family and I. She went above and beyond what she needed to do and took care of us like we were her family. The staff truly cares about their brides and all of the work they put into the wedding truly comes from the heart.
The venue was amazing from start to finish. The suites, the guest rooms, the rehearsal dinner at the Sundial Lodge, the cocktail hour, and the reception were nothing but sheer perfection. I have never been taken care of by a resort staff the way I was taken care of at Nemacolin. The food was absolutely amazing and we were able to have our own private tasting and meet all of the chefs. Not many venues allow you to sit down with each chef and get to know each one of them while customizing the menu.
The professionalism of the staff at Nemacolin was unparalleled. My husband and I were not only taken care of and treated like royalty, but they made our families equally as important.
Our wedding was amazing because it was not only a one day affair, but a weekend affair. Nemacolin offers an amazing resort and atmosphere that gave our guests a "mini vacation." They were able to arrive a few days early, take advantage of the ski resort and casino and get pampered in the spa.
Most wedding guests remember one thing about a wedding, the food. The appetizers were incredible during cocktail hour, the reception food was fantastic and the wedding cake was a dream. Not only did it look beautiful, but it tasted amazing. Our wedding guests still complement us to this day!
Bride Erica Bartolowitz, Wed December 2014
---
My husband, Eric, and I could not have dreamed of a more beautiful wedding day at Nemacolin Woodlands Resort. We knew from the moment we stepped into Falling Rock, this was the place we wanted to celebrate with our friends and family. The planning experience with the staff at Nemacolin was a breeze. I truly enjoyed working alongside Bobbi Opar and Lori Glisan. They both made our vision for our wedding day a reality. I cannot thank the staff enough for the wonderful service, amazing food and beautiful setting. Our family and friends are still raving about our wedding day! Thank you!
Bride Kelcy & Groom Eric Jackson, Wed September 2014
---
I truly can't comprehend how amazing this weekend was. It was beyond expectations, truly amazing and all thanks to you! You really have pulled off a wedding that will be talked about for years. All of our friends and family keep telling us it was the best wedding ever! Thank you so much for all you did to make it so special for Troy and me!
Bride Kirstie Fiorina-Dolan, Wed July 2015
---
Hey Bobbi, this is Troy... I just wanted to say thank you so much for all of your hard work, the wedding was amazing, Kirstie and I couldn't be happier and everyone said that was the best wedding they have ever been to. It was everything I hoped for and more. Kirstie and I couldn't have asked for a better event planner, thank you so much!
Groom Troy Dolan, Wed July 2015
---
Hello Bobbi & Team Nemacolin!
I just wanted to say a huge thank you to your entire team! You guys have all been so great and so professional and just really great to work with all around!
Thank you for helping to make Jamin and Natalie's day so perfect! They were really happy with everything! And thank you for being so helpful to me and my team! It really does help make our jobs easier.
Hope to see you guys in the future!
All the best! And bravo again to you all and the entire Nemacolin team!
Wedding Planner, May 2014