fine dining experience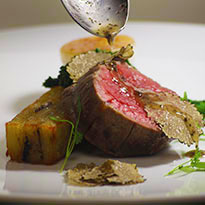 Lautrec truly is one of the finest dining experiences in the country. Located in Nemacolin's Chateau Lafayette, Lautrec's Culinary Team masterfully redefines European-American cooking.
Lautrec's forward moving approach to cuisine and service keeps the menus fresh and imaginative. Working directly with the resort's own horticulturalists at Nemacolin's Holistic Garden and approximately 12 local CSA's and farmers, Lautrec brings in the very best local and seasonal ingredients. Boasting a 1,200 bottle wine list from the resort's extensive 21,000 bottle Wine Cellar, our resident Sommelier will provide appropriate recommendations to perfectly pair your meal and libation.
Accolades
1 of 27 Restaurants in the World to hold such distinctions.
Five-Diamond Restaurant (AAA) since 2007
Five-Star Restaurant (Forbes Travel Guide) since 2009
---
Dining Room
The 96-seat glamorous dining room features all the dramatics of Moulin Rouge with brilliant reds, vibrant yellows and deep purples. Inspiration for the restaurant design can be accredited to the six original Toulouse Lautrec lithographs which are on display within the restaurant.
The menu is a prix-fixe format which welcomes guests to either create their own four-course menu or rely solely upon the very experienced and knowledgeable hands of our own Chef Kristin Butterworth, the youngest female chef in the world to helm a Forbes Five-Star, AAA Five-Diamond restaurant. The seven-course and fourteen-course Chef's Tasting Menus are highly recommended.
---
Tasting Menus
Discover why Lautrec is the region's premier dining experience by viewing the Sample Tasting Menus*:
Weekly Prix Fixe Dinner Menu> Vegan Menu> Vegetable Menu> Bar Menu>


Chef's Table: We welcome you a seat in the Lautrec Kitchen for a first-hand look at the latest Lautrec creations. Join Chef Butterworth and the Lautrec Culinary Team for a private, romantic dinner for two or a celebration for up to eight.
Large Party Menus: Customization and creation are what makes Lautrec a truly unique dining experience. Ask about our large party options.
Important Details: Reservations are strongly recommended.
Proper attire is business casual. To preserve the elegant setting, shorts, sandals and athletic wear are not permitted. While denim is permitted, please note, most Lautrec guests dress for the occasion.
The Lautrec Bar Menu is separate from the Dining Room Menus. Guests seated at the bar are not able to dine from the Prix Fixe or Tasting Menus, and Dining Room guests are not able to dine from the Bar Menu. No reservations are needed for the bar.
For reservations or more information, please contact a Resort Sales Specialist at 866.344.6957.
---
Chef Kristin Butterworth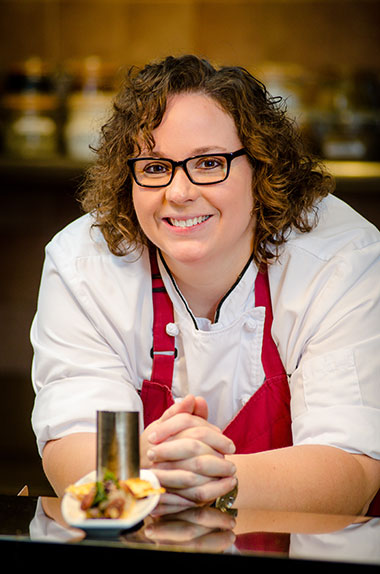 Chef de Cuisine
Kristin A. Butterworth's fascination with food began at a young age. Growing up in rural western Pennsylvania, she spent summers in her father's gardens growing and picking vegetables and then learning to prepare and preserve them in her mother's kitchen.
Later, Kristin attended Indiana University of Pennsylvania and upon graduating with honors in 2001, she moved to Arizona to complete an internship at the then Mobil Five-Star, AAA Five-Diamond Boulders Resort at Latilla Restaurant. This is where Kristin received her first experience in fine dining and her first taste of what would become a passion. Upon completing the internship in 2002, Kristin had the amazing opportunity to go to Italy where she received a certificate in Italian Cuisine and Pastry at the Italian Culinary Institute for Foreigners.
After returning from Italy, Kristin accepted a position at Nemacolin Woodlands Resort. It was during this two year period in her career that she came into her own and truly started to embrace the world of cooking by being introduced to many different aspects of the operation. She worked her way to Sous Chef before departing in 2005. Kristin was ready for another challenge and moved south, where at Sea Island Resort she was a member of the opening team of the new Cloister Hotel and Georgian Room Restaurant. After only 14 months, the Georgian Room received the highly acclaimed, then Mobil Five-Star award, placing it among the most elite restaurants in the world. Kristin worked under mentor Chef Scott Crawford and quickly embraced an appreciation for farm to table and refined southern cuisine. Four years later, Kristin was offered a position at the prestigious and legendary Inn at Little Washington in Virginia, working as one of Patrick O'Connell's Sous Chefs. There, she learned the finer points of refined American Cuisine. During this time, by establishing relationships with farmers and private growers, her love for the farm to table movement really took off.
In 2010, Kristin again returned home to Pennsylvania where she accepted a Chef de Cuisine position at Nemacolin, the very resort that had been the major springboard for her career. At the helm of the Lautrec Restaurant, a Forbes Five-Star, AAA Five-Diamond European influenced restaurant, Kristin is able to showcase her passions and personal cooking style, all the while forming relationships with over a dozen local farms and purveyors to create a truly unique dining experience. While at Lautrec, Kristin has been a featured Chef at the prestigious James Beard House in New York City three times and has received the coveted Forbes Five-Star and AAA Five-Diamond awards every year since 2011.
Follow Chef Butterworth on Twitter> Follow Chef Butterworth on Instagram>

---
HOURS
Wednesday & Thursday
6:00 pm - 9:00 pm
Friday - Saturday
6:00 pm - 10:00 pm
Additional Hours
Sunday - Monday, May 15 & 16:
5:00 pm - 9:00 pm
Sunday Brunch
Sunday
9:30 am - 1:00 pm View Sample Menu>

Lautrec in the Lobby
Wednesday - Saturday
4:00 pm - 8:00 pm
IMPORTANT DETAILS
Reservations are strongly recommended.Children under the age of 12 may find our cuisine and style of service a bit grown-up for their taste; however, a young adult menu is available upon request. The Lautrec bar menu is separate from the dining room menus, and guests seated at the bar are not able to dine from the Prix Fixe or Tasting menus. Proper attire is business casual. To preserve the elegant setting, shorts, sandals and athletic wear are not permitted. Although denim is permitted, please note that most guests dress for the occasion. Restaurant hours may vary based on occupancy.