The Hardy Family Art Collection
A walk around Nemacolin Woodlands Resort is quite simply a study in world renowned art. From the walls to the grounds, art of various mediums: paintings, sculptures, furniture, glasswork and historical artifacts are showcased for guest enjoyment. Our founder, Joseph A. Hardy III, has always shown a great appreciation for art and an even greater passion for sharing his personal collection with others.
All art classes, tours, museums & galleries are available to overnight resort guests only.
To book an art class or to tour the collection, please contact a Resort Reservations Specialist at 866.344.6957.
---
Art Collection Tours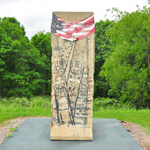 ---
Museums & Gallery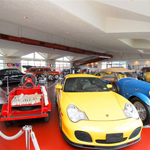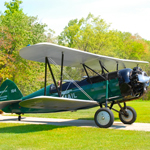 ---
REFLECTION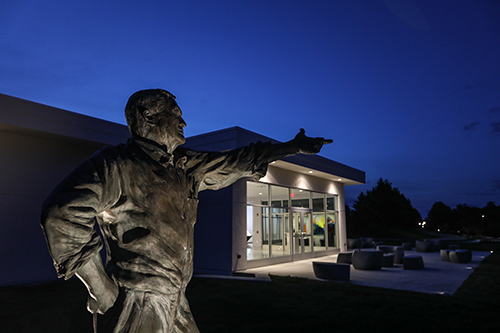 Situated at the peak of the resort, Reflection is filled with contemporary artwork and presents scenic views of the property and beyond. Reflection hosts select art classes as well as various wellness classes for the mind, body and spirit.
Open Daily 10 am - 6 pm
View Art Classes > View Fitness Classes >

For more information on Nemacolin's art collection and classes, please contact a Resort Reservations Specialist at 866.344.6957.
---
NEMACOLIN GALLERY: DANS LE JARDIN
The Nemacolin Gallery, located in the Chateau Lafayette, features select artists from across the nation to showcase their work. View the current exhibition, Dans Le Jardin, March 1, 2020 through May 31, 2020.
In its second annual year, a stroll through a Spring garden has inspired this new collection of original pieces by artists Claire Hardy, Andrea Lavery, Penny Knobel-Besa, and Annie Simcoe. Claire, Andrea, Penny, and Annie present a creative and fresh compilation of blooms reminiscent of a peaceful afternoon Dans le Jardin.
For purchasing, please contact art.department@nwlr.com or 724.329.6316.
Bouquet II
Claire Hardyi, oil on canvas

Lavender Fields
Andrea Lavery, oil on panel

Wild Irish Rose
Penny Knobel-Besa, photograph on canvas

In Bloom-Full Garden
Annie Simcoe, mixed media
---
MEET THE ARTISTS

CLAIRE HARDY | Sewickley, PA
For Claire Hardy, painting goes beyond making a likeness of the subject. It is also about recording the sense of the place, the feel of the atmosphere and the emotion the scene evokes. What's more, the subject may only be a starting point in the process of seeking how to manipulate paint to create a convincing illusion of atmosphere and light. She works directly on the canvas sculpting the paint to uncover the rightness of a composition and a harmony of colors. She is captivated by expressive color, descriptive brushwork, and soft edges. Claire is not related to the Hardy Family.
ANDREA LAVERY | West Haven, CT
As an artist, Andrea considers herself a contemporary impressionist with a touch of whimsy. She loves to portray nature and her surroundings as she sees them, which is sometimes a little twisted. Her intention is not to create a realistic representation of an animal or subject but to create an original piece of art that will bring you joy. For now, most of Andrea's work is small format, with her focus on color and the textures created by the brushstrokes.
PENNY KNOBEL-BESA | Flintstone, MD
Penny Knobel-Besa is a playwright, director, and producer: as well as an award-winning photographer. Her photos appeared in the national award-winning literary magazine, "Antietam Review" in the past and most recently was the photographer for 2019 "Ginseng" literary publication for the Western Maryland region which included over 20 photos. She enjoys teaching "The Art of Photography" doing private sessions.
Knobel-Besa is Towson University Theatre graduate, Masters from University of Baltimore and post graduate theatre studies at Yale University and Johns Hopkins creative writing. As a playwright she produced and directed her musical Off-Broadway in New York and it was picked up for development as a motion picture. She founded the Maryland Theatre Arts Company in Baltimore, MD then moved it to Cumberland, MD where she established a theatre arts academy, producing plays at various venues and annual Children's Arts Festival for several years; having accomplished these goals she retired to pursue photography. To build new photographic bodies of work she drove 18,000 miles alone, tent camping across the United States and Canada to the Arctic Circle.
She prefers to capture random moments as she travels and sometimes creates art work via computer, prints her own color and black & white photographs and uses professional printers for archival canvas prints and metal. She lives in Flintstone and invites the public to visit her Sanctuary Studios a woodland studio she shares with her artist husband, Hilmar Gottesthal.
ANNIE SIMCOE |Accident, MD
Annie Simcoe is a paper artist, working, and living in western Maryland with her husband and two dogs. She hand crafts all of her papers from plants such as cornhusks, iris leaves, and rye grass. The vibrant colors come from fabric dyes added during the paper-making process. Each plant fiber takes the dye differently giving unique colors and textures. Once the papers are dry, she pieces them together and "sketches" on them using her sewing machine. The inspiration for Annie's work comes from her background as a geologist, life events, and the landscape of rural Maryland and West Virginia.
Her Process: First, she makes paper out of plants such as corn husks, rye grass, iris leaves, and banana peels. Beginning by boiling the plants with baking soda to break down the cellulose, she then beats the plants in a beater with a binder called abaca. Second, Annie pours the pulp into a tub of water and forms sheets using a mould and deckle. A mould is a frame with a screen on it, and a deckle is a frame that gives the sheets of paper a pretty edge. She then turns the mould upside down on a piece of felt. The paper pulp sticks to the felt in a process called couching. Finally, Annie rolls the still wet paper onto sheets of plastic to dry. This can take anywhere from a few hours to a few days depending in the temperature and humidity. Once dry, she peels the finished paper from the plastic and then begins her "sketching".
For more information or to purchase artwork from the Nemacolin Gallery, please contact the Amanda Haymans at art.department@nwlr.com.
---
CLUBLEVEL GALLERY: PAKAN PENN
January 1, 2020-April 30, 2020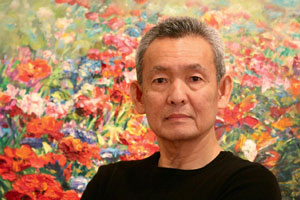 Pakan Penn, a Cambodian-born resident of the Washington, D.C. area, is an oil painter of many dimensions. His artwork cultivates a sense of emotion shaped by his unique life story and extensive travels. His experimentation with an array of colors, interplayed with sunlight and shadows using the palette knife and brush, produces vibrancy and motion across his paintings that create a three-dimensional effect.
Pakan is one of the few artists of his generation to master painting across multiple styles from abstract, impressionism, semi-impressionism, realism, to portraiture. His artwork has been displayed and written about across the United States and internationally.
Pakan was honored to present his picturesque rendering of Chicago Skyline to President Barack Obama.
The first female space explorer, Anousheh Ansari, selected Pakan to paint her portrait, which is displayed at the Space Foundation Discovery Center in Colorado Springs, CO.
The U.S. Embassy in Luxembourg selected and displayed signature floral painting, Majestic Garden, for the Art in Embassies Exhibition.
The U.S. Embassy in Port Louis, Mauritus, selected and displayed two floral paintings, Azalea Dream and Wild Poppies, for the Art in Embassies Exhibition.
The Japanese Ambassador's Residence in Washington D.C. hosted his works for a sole artist exhibition.
Pakan was featured as the Lifestyle Artist in the December 2017 edition of the Washington Life Magazine.
Pakan who was born and raised in Cambodia, began painting at an early age. An American Foreign Service diplomat discovered Pakan's work in a gallery in Phnom Penh. Captivated by Pakan's artwork, the diplomat sponsored his application to the Corcoran School of Art, in Washington, D.C. In 1973 when he was 19, Pakan left Cambodia to enter into the Corcoran art program, barely escaping the war-torn conditions from the Khmer Rouge takeover of Cambodia. Being an art pupil brought Pakan great joy, but due to limited funds, he had to leave the program before graduating to support himself and his family.
He became an American citizen and took a job with a construction crew in the Metro D.C. area. Several years later, Pakan formed his own home improvement business and ran it successfully for 25 years.
In 2002, Pakan retired from home improvement to return to his true passion, painting. From there, Pakan re-connected with his past, by reviving his artistic talent placed on hold for so long. He views the opportunity to paint full-time as a form of rejuvenation and transformation that took a lifetime in the making.
The White House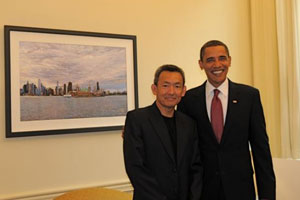 In 2009, Pakan's picturesque rendering of the Chicago skyline was selected to hang in the White House. By the end of the Obama administration, a total of three paintings were on display in the West Wing. This was a profound achievement for Pakan, as a former refugee who came to the United States with little more than a creative soul and a fundamental will to survive against the all odds. In August of the same year, Pakan Penn had the distinct honor of presenting his painting, Chicago Skyline to President Obama at the White House. To listen to Pakan speak about his pieces that were featured in the White house.
---
Laurel Lane Gallery: Monty Montgomery
March 1, 2020-May 31, 2020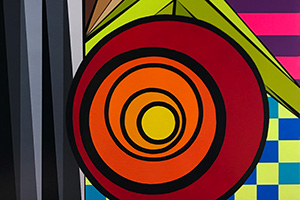 Monty Montgomery's artistic vision can best be described as an emotional language created using his innate intuition about color and object relationships to connect with the viewer. This authentic viewpoint often humbly defies the norm giving his work both power and vulnerability. Profoundly affected by his upbringing in the rural Blue Ridge Mountains of Virginia, Monty's work has always been informed by his visceral and emotional reactions to daily experiences whether in exploration of nature or trekking city streets. Exposure to divergent settings and combining urban sensory input with his impressions of the natural landscape has inspired a collision into one expression where he attempts through color theory, mathematics and abstraction to share his journey and create a unique geometric style.
---
Art Classes To Begin July 1st: